Welcome to Air Cleaner Service!
Site operated by A Plus Air Systems Inc.
A Plus Air Systems was established in 1990 as
a complete solution to all residential heating, air conditioning and air cleaner needs.We are in partnership with The Home Depot for the installation and service of Trane air cleaners.
We are dedicated to providing high quality
products to exceed our customer's
expectations and have been serving the GreaterToronto Area for over 18 years.

Trane Air filter systems and air cleaners provide
a revolution in cleaner air. At A Plus Air Systems, we don't just work to make sure your home's air
is warm or cool. We work to make sure it's as
clean and comfortable as it can be. With Trane's breakthrough TRANE CleanEffectsT air
filtration system, providing your family with the cleanest air in the industry is just a phone call
away. A blessing for asthma and allergy sufferers,
it can remove up to 99.98% percent of airborne allergens from your home's air as it's heated or cooled. And Trane CleanEffectsT is now
proven to remove more than 99% of the
common flu virus from your home's filtered air.
_________ _ _ _ _ _ _ _ _ _


___________________________________Authorized Service Provider for The Home Depot of Canada Inc.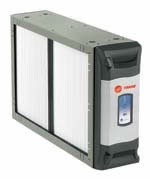 News:

To view other residential products offered by A Plus Air Systems please click on the link below. We sell and install a variety of Trane products.


Click here for more details.
Our Trane CleanEffects® air cleaner is a blessing to asthma and allergy sufferers as it cleans up to 99.98% of air borne allergens.

Click here for more details.
Head-Office:
2 Steinway Boulevard, Unit 17

Toronto, Ontario
M9W 6J8
Tel: (416) 213-0303
For other location please click here.